Bypass & anvil blades
When using secateurs or loppers its important to choose the correct blade for the job & to understand how each cutting action works so as not to cause undue damage.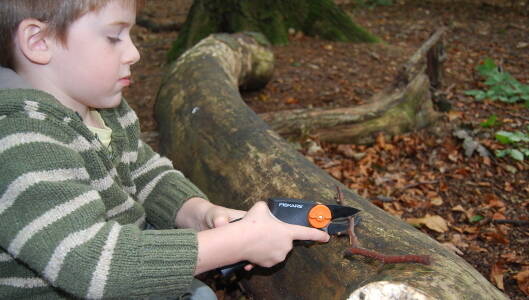 Introduction
There are many different brands, styles and shapes of secateurs and loppers, some with gear actions or different spring actions, many with different-shaped blades.
There are two main types of blades: Anvil (crushing action) and Bypass (shearing action).
What you'll need
anvil loppers/secateurs
bypass loppers/secateurs
selection of wood for cutting
This activity has been provided by

Useful items from our shop
Item available from our shop
Environmental Considerations
Consider the environmental impact of preparing, carrying out & completing this activity. Could this impact be reduced? Specific considerations for this activity could include:
consent from landowner to cut wood

Health & Safety Considerations
Follow your usual operating procedures and carry out appropriate risk benefit assessments.
Some considerations particular to this activity include: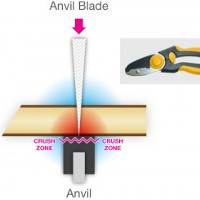 Anvil
Anvil blades are for cutting dead or dry wood.
The blade presses down onto a flat surface, like a knife onto a chopping board, and a crushing action cuts through the wood.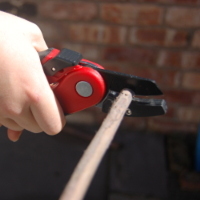 An anvil blade is ideal for dried sticks and twigs.
This is a popular tool to use when working with groups outside as you may often collect sticks
and cut them to length.
Anvil blades should not be used on live stems as they will damage them during the crushing cut, leaving the wound left on the plant susceptible to rot and diseases.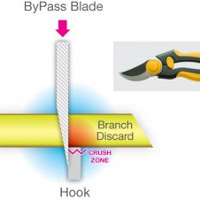 Bypass
Bypass blades are for cutting green/live wood.
The action is similar to scissors, with two blades passing closely past each other.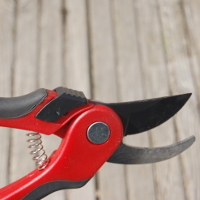 If used correctly bypass pruners cause hardly any damage to the stems they are cutting.
Bypass secateurs will by the ideal tool for most small pruning jobs.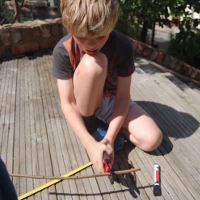 Safe use
Both types of blades should be routinely-inspected to make sure they are safe and working optimally.
Tool maintenance and storage
Check tools thoroughly before use. If anything looks damaged decommission it.
Ensure the correct use of the correct tool, eg. cutting stems that are too thick can cause force to be applied that can twist and damage the tool.
After use ensure the blades are wiped free of debris and dried before storing away. Keep an old rag in the tool box for this purpose.
Use oil regularly to make sure all moving parts are working efficiently.
Store in a tool box or similar and if necessary ensure it is lockable.
Disclaimer: Muddy Faces cannot take any responsibility for accidents or damage that occurs as a result of following this activity.You are responsible for making sure the activity is conducted safely.
Key Features
Age Range 3+
Duration Less than an hour
Location Anywhere
Season Any
Time of Day Anytime