Heavyweight Canvas Tarpaulin
Heavyweight Canvas Tarpaulin
This heavy weight canvas tarpaulin is made from single filled cotton duck and is dark green in colour. It has a high resistance to abrasion and punctures while remaining breathable. Rust resistant brass eyelets are set into strengthening tabs at 60cm intervals. Hems and seams are single-stitched. Made from a natural fabric that has been wax-proofed and is breathable making it water-resistant.
£25.99 exVAT
£31.19 incVAT
£42.99 exVAT
£51.59 incVAT
£85.99 exVAT
£103.19 incVAT
£249.99 exVAT
£299.99 incVAT
SKU

TAR3005/1.2X2.4

Length

1.2m

Width

2.4m
SKU

TAR3005/1.8X2.4

Length

1.8m

Width

2.4m
SKU

TAR3005/2.4X3.6

Length

2.4m

Width

3.6m
SKU

TAR3005/4.5X6.0

Length

4.5m

Width

6m
TAR3005/1.2X2.4
TAR3005/1.8X2.4
TAR3005/2.4X3.6
TAR3005/4.5X6.0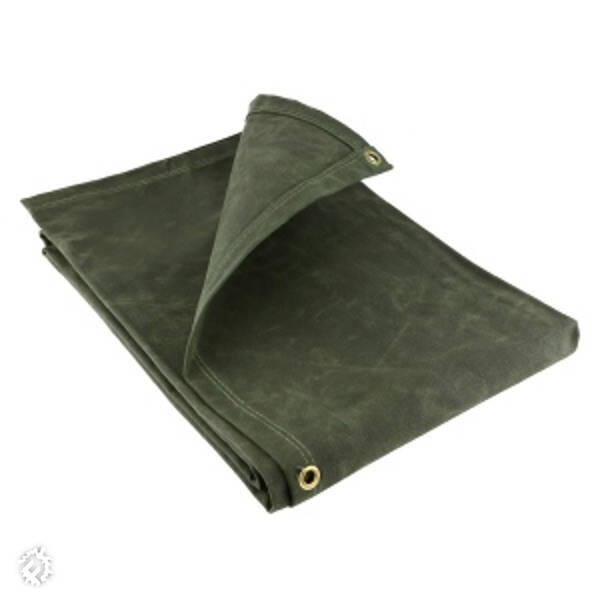 Additional Information
A minimal amount of shrinkage can occur when the canvas tarpaulin has been subject to varying temperatures. It will require re-treating after exposure to water in order to maintain its resistant properties.
We do not recommend that this tarpaulin is suspended solely by the eyelets if it is being used as an outdoor canopy. We suggest that you use a ridge line made of rope or bungee which will help support the weight of the tarp. This will also help with a run-off of water as water can pool if tarps are suspended only by the eyelets, adding extra pressure and weight.
Please note that these tarps have been dyed so there can be a risk of colour transference upon application.
Colour: olive green
Water resistant
Breathable
560gsm
Single stitched hems and seams
Rust proof eyelets at 60cm intervals on all 4 sides
Some Muddy Faces Ideas
Related Products