Deluxe Den Building Kit with 10 Den Poles - Class Sized
Deluxe Den Building Kit with 10 Den Poles - Class Sized
This Deluxe Class Sized Den Building Kit with 10 Poles has a complete array of resources for building a number of different sized and shaped dens. This kit can be used on its own or with other kits and den building materials.

£659.99 exVAT
£791.99 incVAT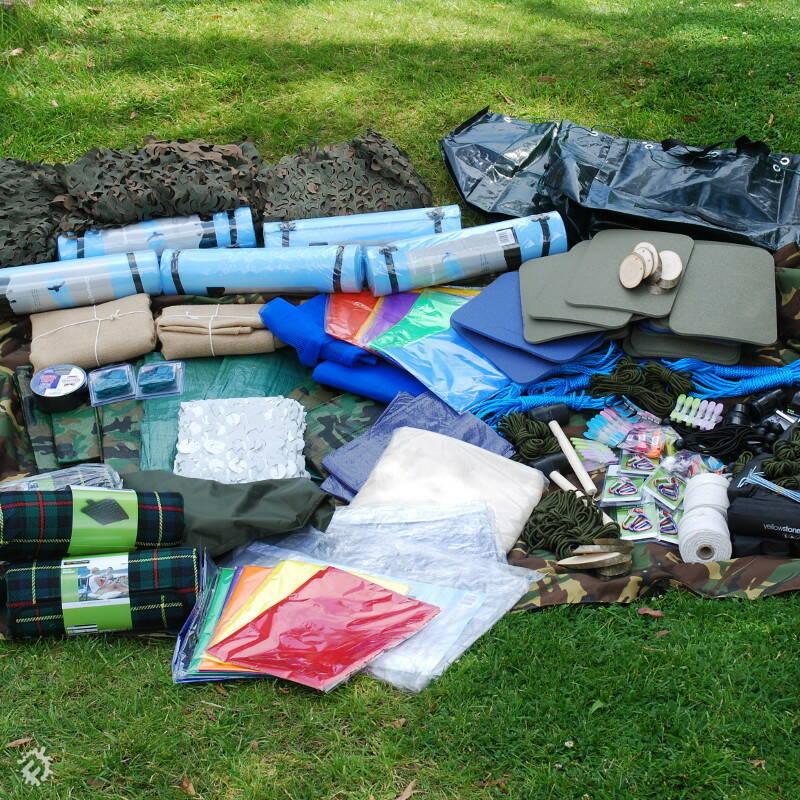 Additional Information
There are lots of different den covers, plenty of ground cover and mats so that you don't get wet if you sit on the ground, and enough pegs, clips and carabiners for you to hang up and clip your dens together.

The kit includes the following resources:
10 x den poles 1100mm long (not shown in image)
5 roll mats
2 balls of string
5 packs of 3 carabiners
14 x 5m lengths of paracord
10 assorted sizes of tarpaulins
2 packs of wooden pegs
5 x 10m and 2 x 30m lengths of poly rope
6 x 1m of camo netting
6 pieces of green camo netting
1 piece of white camo netting
10 wooden slices
10 packs of 10 tent pegs
1 basic den cover
5 mallets
2 packs of white ball bungeesrope measure
25 sit mats
tarpaulin clips
2 camo shelters 1500mm x 3000mm
2 x 2m pieces of hessian
2 x 2m lengths of blue netting
2 x 2m lengths of green netting
2 camo shelters 1500mm x 3000mm
rainbow organza fabric
a roll of gaffer tape
2 clear pvc tarps (2000mm x 2000mm)
4 picnic rugs
3 packs of den clips
clamps
5 x 90 litre camp bags to carry it in together with some cotton bags to keep pegs and clips together.
This kit is open-ended and can be used in many different ways. Therefore, it does not come with an instruction booklet.
Some Muddy Faces Ideas
Related Products