Pinecone bird feeder
Keep our feathered friends fit and fed through the winter with this simple bird feeder.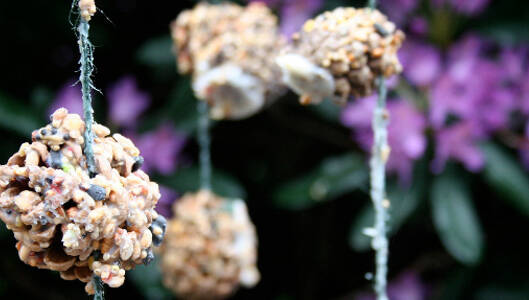 Introduction
The joy of offering food for the birds is that you can spend time watching them. Hang these pinecone bird feeders somewhere high up away from prowling cats and near some protection so the birds can hide close and by see what birds come to visit.
What you'll need
lard or suet
bird seed or a mix of raisins, peanuts & grated cheese
bowl
pine cones
string

This activity has been provided by

Useful items from our shop
Item available from our shop
Environmental Considerations
Consider the environmental impact of preparing, carrying out & completing this activity. Could this impact be reduced? Specific considerations for this activity could include:
source of natural materials
Health & Safety Considerations
Follow your usual operating procedures and carry out appropriate risk benefit assessments.
Some considerations particular to this activity include:
collecting natural materials
hand washing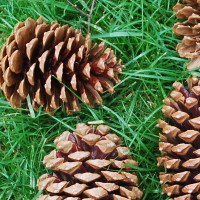 Preparation:
Go for an autumn walk and gather fallen pinecones. Dry them out if they are damp.


Ingredients:
For a good quality bird seed mix the RSPB recommend raisins, peanuts, grated cheese and suet or lard.
If using lard, allow it to stand to come to room temperature – don't artificially heat it as it may melt.
Many people recommend peanut butter as an alternative to lard but consider a couple of things before using it:
– most bought peanut butters have many additives – particularly concerning for birds is the salt and sugar content
– we've also heard that the oil in peanut butter can effect bird's feathers (however we can't back this up with research).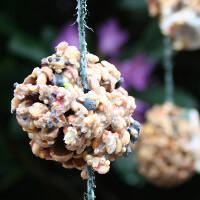 Step #1
Tie a piece of string around the pinecone with a long end for fastening to a twig or branch.
You can have several pinecones on one length of string – wrap it around the middle of the pinecone, leave a gap and tie another – continue at intervals along the string.
Alternatively screw a screw into the end of the cone where the stem used to be. Tie some string around the screw.
Step #2
Let the lard warm up to room temperature and cut into small cubes.
Place the lard in a mixing bowl and gradually add the other ingredients, mixing it together with your finger tips. Keep adding ingredients and mixing until it all holds together.
Step #3
Push lumps of the fatty mixture into the spaces between the fronds of the pinecone.
Step #4
Roll the lardy pinecone in a tub of bird seed. Voila! A bird feeder.
Step #5
Tie your bird feeder in a tree.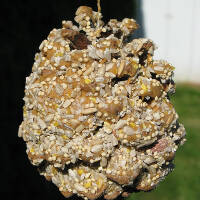 Step #6
Re-fill your pinecone when the birds have munched all the seed and lard.
Take it further:
find yourself a quiet spot a safe distance away and do some bird-watching
use an ID guide and take note of the different varieties of birds you see.
Disclaimer: Muddy Faces cannot take any responsibility for accidents or damage that occurs as a result of following this activity.You are responsible for making sure the activity is conducted safely.