Talking Tub - Pack of 5
The Talking Tub is an object which a practitioner fills with a wide variety of objects which all fit a particular theme. Objects can then be taken out one by one encouraging children to touch, feel, and explore a theme.
£32.50 exVAT
£39.00 incVAT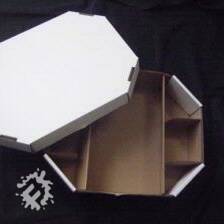 Additional Information
Observation, documentation, assessment and planning are most effective when they are matched to the needs of the child. In order to achieve this we need to understand children's thinking, through considering all the ways in which they communicate. The tub will allow you to provoke child-led conversations which in turn will create Possible Lines of Development.
They come flat packed for you to assemble with a black and white question mark motif.
Some Muddy Faces Ideas
Related Products