Puddleflex Fleece-Lined Wellies
Puddleflex Fleece-Lined Wellies
** The Puddleflex range is currently out of stock until Autumn 2021. We are still taking orders and you can buy it online, however, please be aware that your clothing order will be delayed and will not arrive until the Autumn.
The Muddy Puddles Puddleflex Wellies for children are lined with polar fleece giving extra warmth with a quilted upper and an anchored draw cord to fasten them in close to the leg to keep biting winds out.
Sizing information available here.
£30.00 exVAT

£30.00 exVAT

£30.00 exVAT

£30.00 exVAT

£30.00 exVAT

£30.00 exVAT

£30.00 exVAT

£30.00 exVAT

£30.00 exVAT

£30.00 exVAT

£30.00 exVAT

£30.00 exVAT

£30.00 exVAT

MDP44/5
MDP44/6
MDP44/7
MDP44/8
MDP44/9
MDP44/10
MDP44/11
MDP44/12
MDP44/13
MDP44/1
MDP44/2
MDP44/3
MDP44/4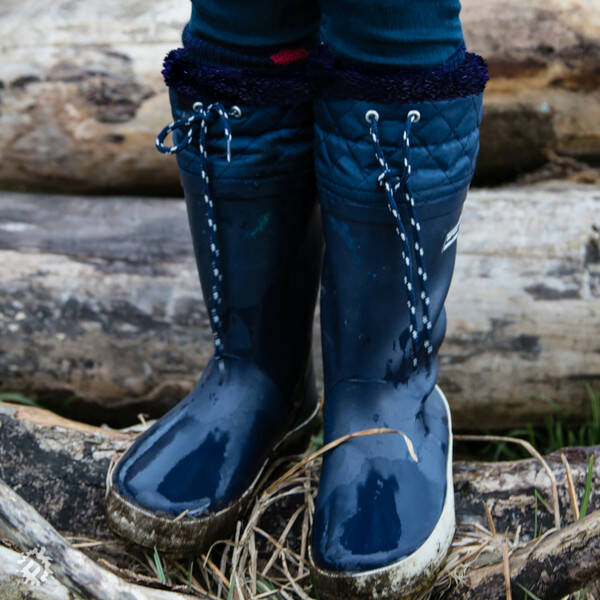 Additional Information
Wellies outer made from 100% rubber
100% polyester faux fur lining
Lace tie round the top for secure fastening and to stop splashes sneaking in
Fur lining makes these Wellies very cosy
Soft in-sole for the comfort of little feet
Gripped sole making walks much less slippery
Reflective strip for high visibility
Fleece-lined and insulated
Upper: Rubber, Polyester, Lining: Fleece & Taffeta, 100% Polyester
Cleaning - to keep your children's wellington boots in excellent condition for a long time, always wipe clean after use using water and leave to dry away from direct sunlight or artificial heat sources. After cleaning apply a protective spray. If you follow this simple routine every couple of weeks, depending on the amount of wear, your boots will last months, even years, longer. Store your boots in a cool, well ventilated place, away from strong light. Do not leave on a radiator or boiler to 'dry' – or outside in the cold. Varying temperatures will dry and crack the rubber, especially if a protective spray is not used on a regular basis.
Removing your boots - do NOT use a step to remove your wellington boot - excessive stress being applied to the boot heel may lead to splitting.
Some Muddy Faces Ideas
Related Products