How Would It Feel - Mary Beth Goddard
How Would It Feel - Mary Beth Goddard
In HOW WOULD IT FEEL? Mary Beth Goddard takes children on a journey of fantastic proportions inviting them to imagine a playful interaction with the natural world.
£13.99 exVAT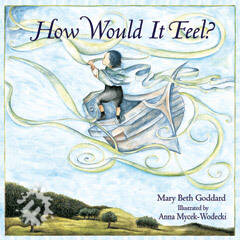 Additional Information
How would it feel to ride on a breeze . . . splash down with the rain . . . play tag with the sun . . . or wake up in a flower?
Children and parents alike will have an opportunity to view the world from widely varying perspectives such as high in the sky or deep under the sea. But the final stanza provides reassuring closure returning children to the safety of home: It's time to go back / to your own bed and rest / back to the family / who loves you the best.
The repeated poetic phrasing beginning each passage provides early reading skill development and the vivid and intricate details in the watercolour artwork successfully extend and amplify the text inviting many hours of exploration.
Some Muddy Faces Ideas
Related Products