Field Guide - Moorland Plants
Field Guide - Moorland Plants
This fold-out chart is designed to aid the identification of moorland and heathland plants in the British Isles.
£3.30 exVAT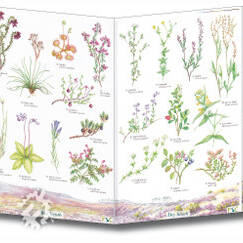 Additional Information
Arranged by habitat, the chart includes plants of peat bogs (such as bog asphodel and bog myrtle), wet heath (such as cross-leaved heath and sundews), dry heath (such as cowberry and bilberry) and upland woodland (such as gorse and foxglove).
The chart is suitable for students (14+) carrying out fieldwork in moorland or heathland, such as wet-dry transects, surveys of heather management and studies of heathland succession. The key uses non-flowering parts of the plant and should be applicable at most times of the year, even when plants are not in flower.
This chart is part of the FSC's range of fold-out charts, designed to help users identify of a wide range of plants and animals. Each chart is laminated to make it splashproof and robust for use outdoors. Clear colour illustrations and text by experts in the subject make these valuable resources for all age groups.
some Muddy Faces Ideas
Related Products