Working with anxiety and trauma through embodiment for outdoor practitioners
Working with anxiety and trauma through embodiment for outdoor practitioners
This CPD course opens discussions about how we, as outdoor learning practitioners and teachers, can support our children through times of anxiety and trauma.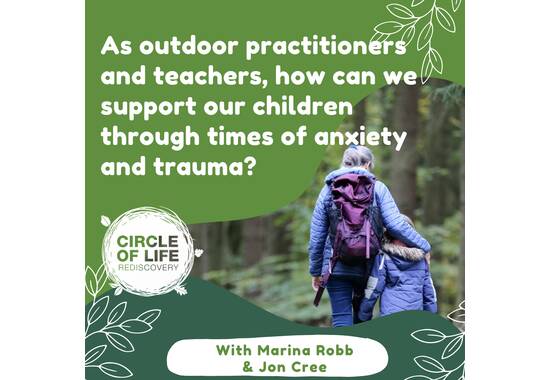 Event Details
This outdoor learning CPD course is for:
Outdoor learning practitioners
Teachers
Topics include:
Working with sensory preferences
Embodiment and integration
Recognising the importance of working with ourselves as well as our learners
The crucial role nature interactions can play in supporting emotional regulation
During this course, we'll call on current neurological understanding and you'll try out new practical ideas. Also, you'll reaffirm your knowledge of the emotional benefits of working in groups with nature.
Learning objectives
The difference between grounding and centering (arriving for group experience going through body tensions and JUST noticing and bringing back to centre through breath. How do we help groups feel safe in their bodies in the place)
Safety guidance for the session
Behaviour is communication. Polyvagal theory and the five touchstones of somatic practice (we'll work through these with various exercises)
Locating feelings in our bodies and describing the physical sensation First, then naming the emotion (sit spot – emphasise how to approach sit spot)
Importance of co-regulation: How does this resonate between brains and bodies?
How movement and tuning into a place simultaneously regulate our bodies and feed the eight senses. Active exercise: Making body and sense sensation conscious. Also, we'll use a handcraft activity and more significant tracking movements)
Input on sensory processing, anxiety and trauma and behaviours. Also, the importance of a special safe space in the outdoors
Working with stories in a therapeutic way
Pebble meditation ('handful of quiet')
Reflections. Also, how to work with embodiment practices and where you might introduce these practices into your sessions
Review using a body metaphor