Forest Kindergarten Level 3 - Local Nature Play
Forest Kindergarten Level 3 - Local Nature Play
Feel confident exploring nature with young children.
At the same time, help young learners to establish a robust connection with local nature.
Modelled on a Forest School approach, and based on the Scottish Forest Kindergarten model, our Forest Kindergarten Level 3 uses child-centred learning to develop Early Years confidence and self-esteem.
During this hands-on practical and interactive training course, you'll learn practical activities enabling you to organise and safely set up and facilitate Forest Kindergarten sessions.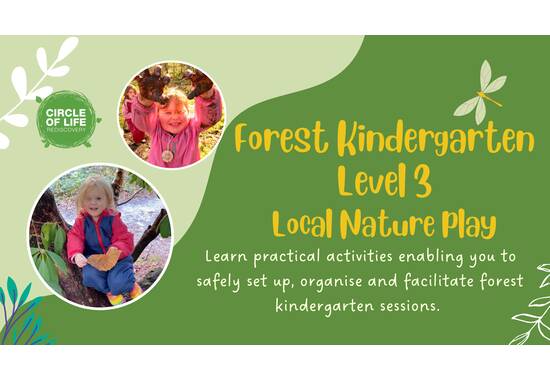 Event Details
The course is suitable for:
All Early Years Practitioners holding or working towards a Level 3 Early Years qualification or equivalent
Forest School Leaders or outdoor practitioners with a good understanding of early years practice
Level 2 early years practitioners (will need to be supervised by a Level 2 early years practitioner in a leadership role)
Over three days, we'll teach you the principles and approach of Forest Kindergarten alongside the theory of how children play, learn and interact with nature. In particular:
How to prepare yourself as a practitioner to take young children to visit a green space
How to set up a suitable site
How to set boundaries with children
How to prepare for risks (risk-benefit model)
Research on the benefits of playing and learning outdoors
Games and songs to support children with the routines of regular visits to a greenspace
But that's not all. Three themes form the basis of Forest School Kindergarten: People, place and pedagogy (activities).
This course is supported by 2 guiding principle documents developed by a UK based working group of Early Years and Outdoor Play specialists.