Forest from Seed: Setting up a Tree Nursery (EAST SUSSEX)
Forest from Seed: Setting up a Tree Nursery (EAST SUSSEX)
We are delighted to be partnering with the Children's Forest for events in late Autumn. These will focus on gathering seeds and growing trees from healthy local tree seeds, alongside connective cultural practices such as singing, crafting, storytelling and foraging.
We recommend participating in both the Foraging and Forest from Seed workshops. This training is subsidised by the People's Project funding.
These two days will take place at the site of the Forest from Seed Nursery. We will explore the practical considerations of setting up and tending a tree nursery with children and local communities. Looking at how to germinate some of the common native trees that support and increase local biodiversity as well as providing crafts and wild foods for our communities.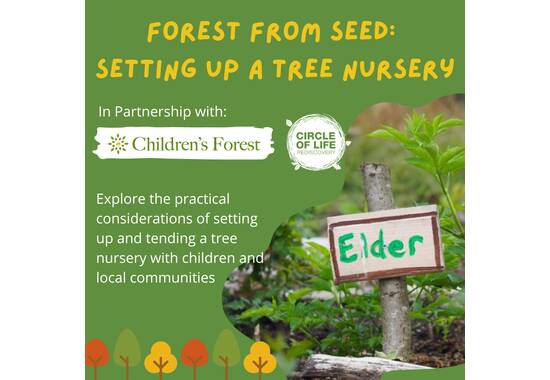 Event Details
What you'll learn
How to identify and harvest seeds form healthy native trees
Different ways of treating various kinds of seed in order to germinate and grow them into saplings
Practical knowledge on how to set up a small tree nursery and engage local children and communities
How to tend seeds into saplings through the year to grow trees for Children's Forests and other tree planting initiatives
Songs, stories and practices that bring connection to these community initiatives
BOOK HERE: https://circleofliferediscover...
Dates: November 23rd & 24th 2023

Time: 10am – 4pm

Facilitators: Anna Richardson and Pippa Johns

Fee: £80 for the 2 days

Location: Springrise Community Gardens, Emerson College, Forest Row. East Sussex, RH18 5JX