Foraging, Seed and Song (EAST SUSSEX)
Foraging, Seed and Song (EAST SUSSEX)
We are delighted to be partnering with the Children's Forest for events in late Autumn.
These will focus on gathering seeds and growing trees from healthy local tree seeds, alongside connective cultural practices such as singing, crafting, storytelling and foraging.
We recommend participating in both the Foraging and Forest from Seed workshops. This training is subsidised by the People's Project funding.
Explore Tree Lore and foraging, make food and medicine from trees, learn crafts and games connected with those species and seed saving for planting.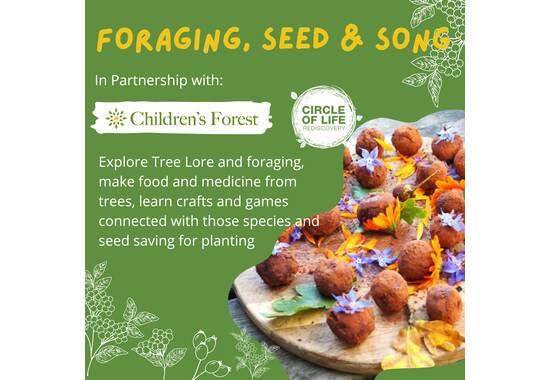 Event Details
The course will cover:
Provide practical skills to correctly identify key local plants and trees that provide food and medicines
Learn how to gather plants with safety, care and respect
Learn ancestral and modern techniques to process the plants
Provide practical knowledge for conservation and propagation of the plants
Understanding the risks and benefits of foraging
Building a sense of belonging to the land through connecting with the plants through the seasons
Cultivate life long relationships with the plants and trees in our local areas
Dates: October 30th and 31st 2023

Time: 10am – 4pm

Facilitators: Anna Richardson and Lucinda Warner (medical herbalist)

Fee: £80 for the 2 days

Location: Mill Woods, Park Lane, Laughton, East Sussex
BOOK HERE: https://circleofliferediscover...