Foraging at Forest School CPD - London
Foraging at Forest School CPD - London
Become a forager for the day- learn how to identify edibles and poisons, taste amazing wild flavours, and discuss ways to incorporate this ancient skill within our sessions. Location: urban woodland in south London.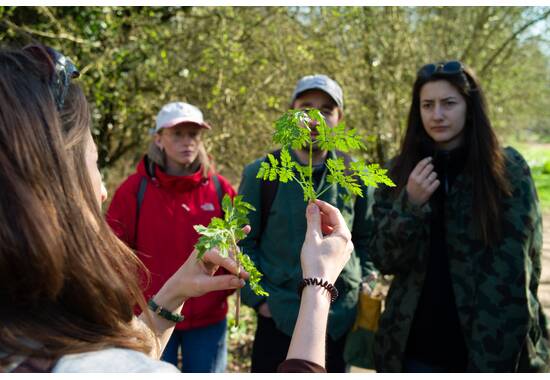 Event Details
Forest School offers opportunities to develop deep and lifelong relationships with plants, trees and fungi, in a supportive environment.
Foraging is an ancient skill which is becoming increasingly popular as a way to incorporate more fresh sustainable food into our diets and reconnect with nature at the same time. The lost art and knowledge of foraging is an essential life skill which is a joy to share.
Join us on this unique training day designed for Forest School and Outdoor Learning Leaders and anyone who works with groups outdoors.
Gemma Hindi, from Earthwild, is a professional Foraging & Wild Food Guide, and a Forest School Trainer. She will support your learning and confidence within this training course. You will come away with a certificate of attendance, as well as a wealth of knowledge about how to identify edible and poisonous plants, trees and fungi (species are site and season dependant). You will gain exciting new ideas for activities, ways to use wild ingredients, and a deeper understanding of the potential to forage with your groups and sites.
We will cover:
Earthwild's Forager Code: be safe & sustainable
Species for food, drink, medicine, fire & crafts
Identification: botany and mycology
Foraging activities with children
Risk benefit assessments
Cooking & sharing wild food and drink
Please note:
Please email hello@earthwild.org.uk to be put on mailing list for similar events or private bookings.
Refreshments will be free from gluten, refined sugar, meat and dairy. May contain organic egg or honey. Some products contain nuts. Please state dietaries on booking form.
Walks and workshops vary in length, terrain and accessibility. Please contact us in advance if you have accessibility requirements.
The course will continue whatever the weather (except in electrical storms or high winds), please dress accordingly.
5% of sales donated to local environmental charity.


Tickets:https://earthwild.org.uk/product/foraging-at-forest-school-cpd-training-walk-and-workshop/