Accredited FS Leader Training in London (Level 3) JUNE
Accredited FS Leader Training in London (Level 3) JUNE
Based in London, The Hive delivers Accredited Forest School Training that focuses on innovative ways to engage pupils in Forest School, particularly in urban environments where access to outdoor space is constrained.
Our accredited Level 3 Forest School Leader training course is designed to provide trainees with all the skills they'll need to lead rich and creative Forest School sessions in a safe natural environment. It is designed to meet the needs of teachers, nursery practitioners, youth workers, community facilitators, artists, counsellors, and parents – anyone keen to lead Forest School sessions in their own – or others - setting on a regular basis.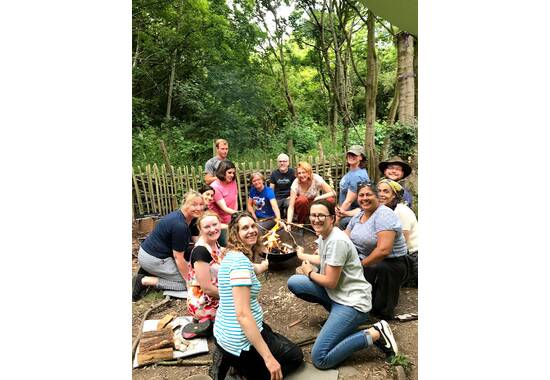 Event Details
Our course
The course is structured around five key areas of learning, covering the pedagogy that underpins the Forest School ethos and principles, the understanding of child-centered learning in nature, the planning and preparation that are key to successful sessions, the broad range of practical skills supporting Forest School and the knowledge that allows the sustainable use of woodlands and natural materials for learning.
Course accreditation
This course is accredited through National Awarding Organisation AIM Qualifications & Assessment Group. AIM are approved by and meet the requirements of the Forest School Association. Through AIM, our Curriculum is endorsed by the FSA.
We specialise in urban Forest School
Our training team are not just experienced Level 3 Forest School practitioners. They're also school teachers or school practitioners with deep knowledge of engaging "city children" in Forest School.They understand the challenge of delivering a genuine Forest School experience in places where you may be reliant on the local park or common. They're interested in helping you find clever "ways around" to make the most of the woodlands and green spaces that London offers.

Training dates for this course
Friday 23rd June 2023
Friday 30th June 2023
Friday 7th July 2023
Friday 14th July 2023
Friday 21st July 2023
Assessment dates for this course
Friday 6th October 2023
Friday 13th October 2023
Friday 16th October 2023
Friday 20th October 2023
Our training venue
Our training venue - Stave Hill Ecology Park - is in Surrey Quays, just a few minutes away from Canada Water station, a dense and rich nature reserve spanning 5 acres in the middle of London!


Meet our Training Team | See our Training Gallery | Find out more about the course