Accredited FS Introduction Training in London (Level 1) JUNE
Accredited FS Introduction Training in London (Level 1) JUNE
Based in London, The Hive delivers Accredited Forest School Training that focuses on innovative ways to engage pupils in Forest School, particularly in urban environments where access to outdoor space is constrained.
This accredited two-day course is designed to provide trainees with an introduction to the Forest School ethos and learning in the outdoors. The course aims to build knowledge and confidence and it is open to trainees with little or no experience of working in the outdoors. There are no entry requirements and it is particularly well-suited to schools, nurseries and community settings looking to build the confidence of their Forest School parent, teacher and community volunteers with a short accredited course, delivered in an easy format.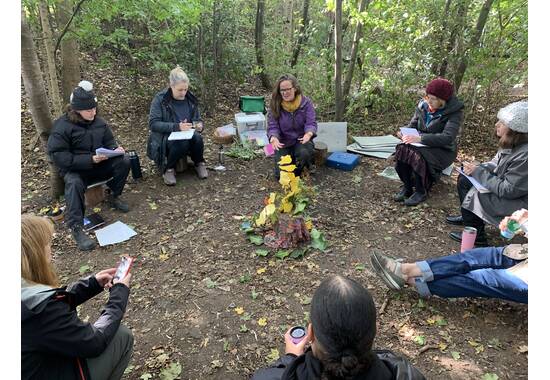 Event Details
Our course
The course includes basic practical woodland skills, methods of identifying woodland species and an exploration of the importance of play, creativity and child-centered approaches in Forest School activities. It is a blended course which includes one day of face-to-face training at our training venue (Stave Hill Ecology Park) and one day of remote learning and portfolio development.
Course accreditation
This course is accredited through National Awarding Organisation AIM Qualifications & Assessment Group. AIM are approved by and meet the requirements of the Forest School Association. Through AIM, our Curriculum is endorsed by the FSA.
We specialise in urban Forest School
Our training team are not just experienced Level 3 Forest School practitioners. They're also school teachers or school practitioners with deep knowledge of engaging "city children" in Forest School.They understand the challenge of delivering a genuine Forest School experience in places where you may be reliant on the local park or common. They're interested in helping you find clever "ways around" to make the most of the woodlands and green spaces that London offers.

Training dates for this course
Our training venue
Our training venue - Stave Hill Ecology Park - is in Surrey Quays, just a few minutes away from Canada Water station, a dense and rich nature reserve spanning 5 acres in the middle of London!


Meet our Training Team | See our Training Gallery | Find out more about the course